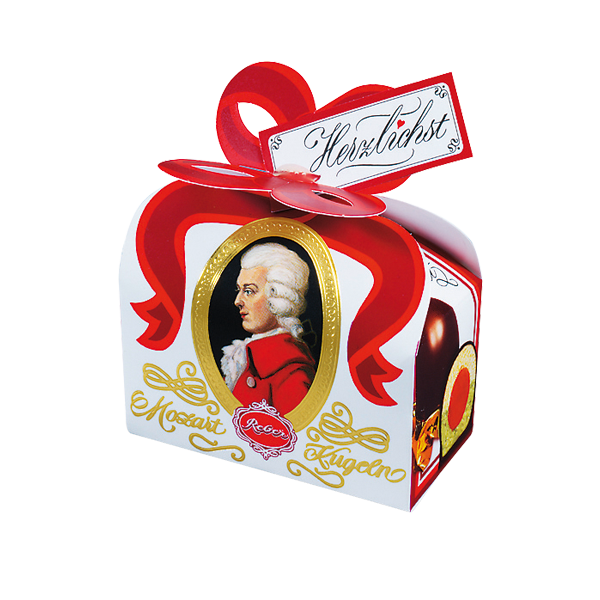 Reber Mozart Duett box
Genuine Reber Mozart chocolate-coated balls are filled with premium pistachio marzipan made from fresh green pistachios, almonds and hazelnut nougat, and covered in a delicate layer of chocolate praline.
Packaging size:
2 balls (2 x 20 g = 40 g)
Ingredients
Ingredients: Sugar, almonds (36% in marzipan), cocoa mass, cocoa butter, hazelnuts (36% in hazelnut praline), whole milk powder, pistachios (3,5% in pistachio marzipan), lactose, humectant (invertase, glycerol), emulsifier soya lecithins, flavouring, alcohol.
May contain traces of wheat and egg components.
Min. 60% cocoa in bitter sweet chocolate / Min. 35% cocoa in milk chocolate.
Allergens
Contains: Pistachio nuts, Hazelnuts, Almonds, Nuts, Lactose, Milk (including lactose), Soybeans
May contain: Eggs, Wheat, Cereals containing gluten

Nutritional Values
100 g
Amount
Unit
Energy
509
Kilocalorie
Energy
2126
Kilojoule
Fat
28.4
Gram
of which saturated fatty acids
10.1
Gram
Carbohydrate
54.1
Gram
of which sugars
48.1
Gram
Protein
8
Gram
Salt
0.05
Gram
Additional Product Information
Regulated product name
Chocolates out of bitter sweet chocolate (17%) and milk chocolate (18%) filled with hazelnut praline (10%), pistachio marzipan (30%) and marzipan (25%)
Compulsory additive label information
Min. 60% cocoa in bitter sweet chocolate / Min. 35% cocoa in milk chocolate.
Net content statement
2 Stk = 40 g
Preparation instructions
Ready to Eat.
Distributor name and address
Wander AG, Fabrikstrasse 10, 3176 Neuenegg, CH
Manufacturer name and address
Paul Reber GmbH & Co. KG, Ludwigstr. 10-12, 83435 Bad Reichenhall, DE