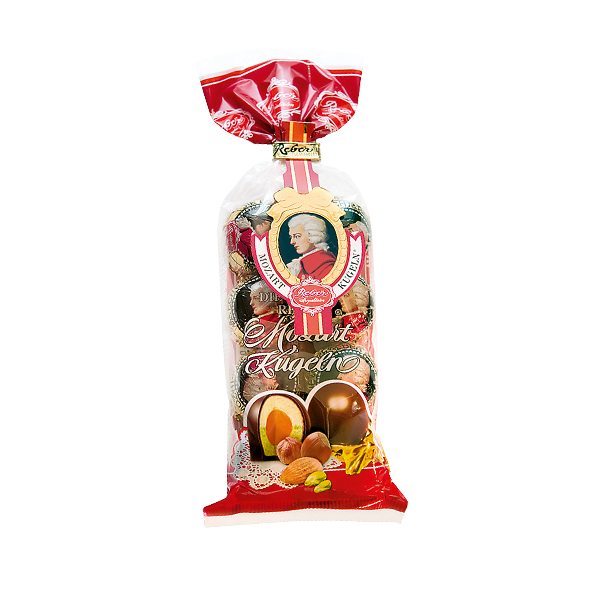 Reber Mozart bag
Genuine Reber Mozart chocolate-coated balls are filled with premium pistachio marzipan made from fresh green pistachios, almonds and hazelnut nougat, and covered in a delicate layer of chocolate praline.
Packaging size:
Pack of 5 (5 balls at 20 g each = 100 g)
Pack of 8 (8 balls at 20 g each = 160 g)
Ingredients
Ingredients: Sugar, almonds (36% in marzipan), cocoa mass, cocoa butter, hazelnuts (36% in hazelnut praline), whole milk powder, pistachios (3,5% in pistachio marzipan), lactose, humectant (invertase, glycerol), emulsifier soya lecithins, flavouring, alcohol.
May contain traces of wheat and egg components.
Min. 60% cocoa in bitter sweet chocolate / Min. 35% cocoa in milk chocolate.
Allergens
Contains: Pistachio nuts, Hazelnuts, Almonds, Nuts, Lactose, Milk (including lactose), Soybeans
May contain: Eggs, Wheat, Cereals containing gluten

Nutritional Values
100 g
Amount
Unit
Energy
509
Kilocalorie
Energy
2126
Kilojoule
Fat
28.4
Gram
of which saturated fatty acids
10.1
Gram
Carbohydrate
54.1
Gram
of which sugars
48.1
Gram
Protein
8.0
Gram
Salt
0.05
Gram
Additional Product Information
Regulated product name
Chocolates out of bitter sweet chocolate (17%) and milk chocolate (18%) filled with hazelnut praline (10%), pistachio marzipan (30%) and marzipan (25%)
Compulsory additive label information
Min. 60% cocoa in bitter sweet chocolate / Min. 35% cocoa in milk chocolate.
Net content statement
5 Stk = 100 g
Consumer storage instructions
Keep cool and dry.
Preparation instructions
Ready to Eat.
Distributor name and address
Wander AG, Fabrikstrasse 10, 3176 Neuenegg, CH
Manufacturer name and address
Paul Reber GmbH & Co. KG, Ludwigstr. 10-12, 83435 Bad Reichenhall, DE