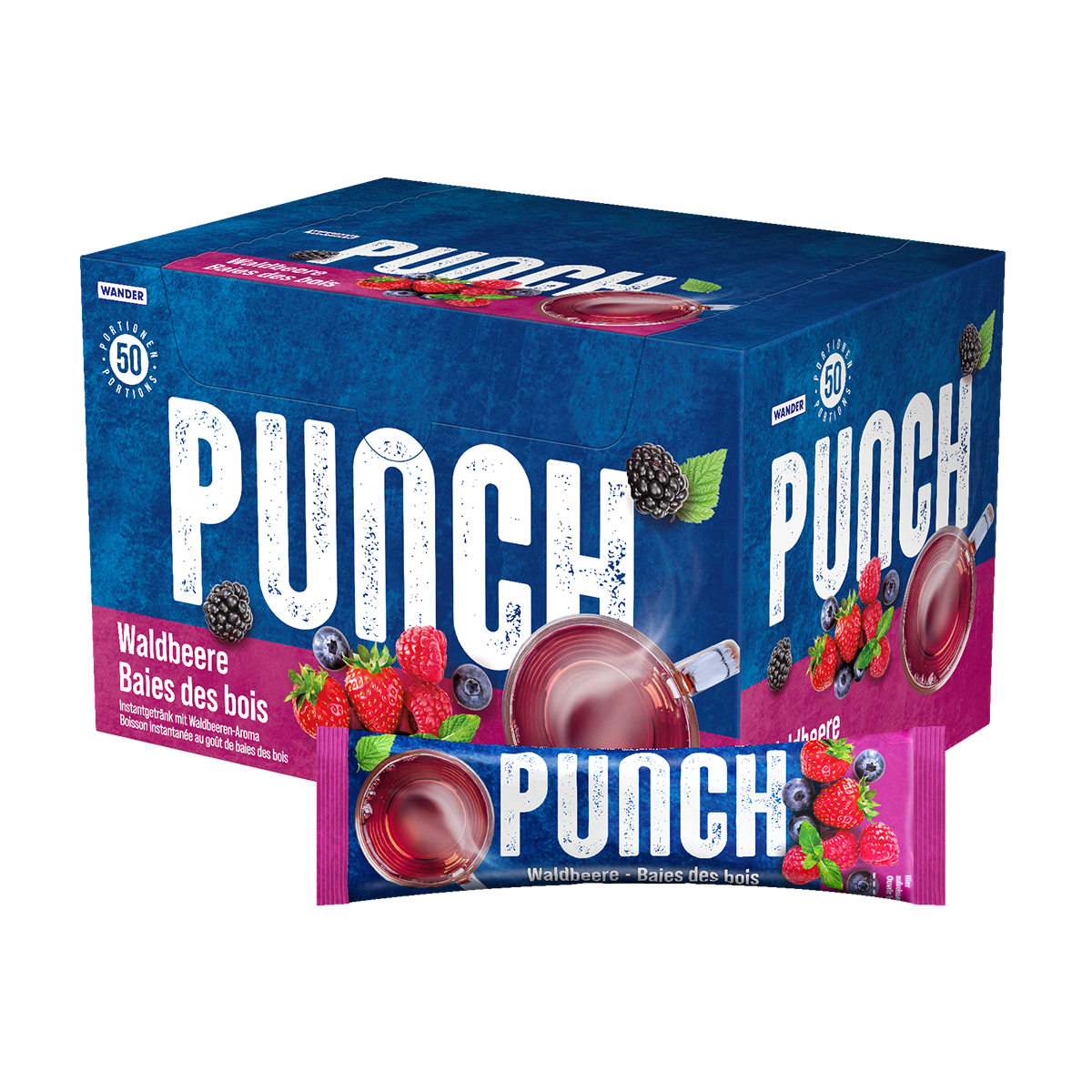 Forest fruits punch
Punch with the flavour of forest fruits – made by Wander.
Despite being the latest addition to the range, forest fruits punch has quickly established itself as a firm favourite among punch fans. Its fruity, fresh berry flavour tastes great when served hot on cold winter days.
Ingredients
Zutaten: Zucker, Glukosesirup, Beerensaftpulver 4.9% (Saccharose, Fruchtfleisch (Heidelbeeren, Himbeeren, Erdbeeren, Holunderbeeren, Brombeeren), Glukosesirup, Säuerungsmittel (Citronensäure), natürliches Aroma), Randensaftpulver färbend, Säuerungsmittel (Citronensäure), Tee-Extrakt 0.9%, Aroma.
Allergens
Enthält: Keine deklarationspflichtigen Allergene enthalten
Nutritional Values
100 g
1 Portion (22 g)
 
Menge
Einheit
 
Menge
Einheit
Brennwert
 
390
kcal
 
 
86
kcal
Brennwert
 
1657
kJ
 
 
366
kJ
Fett
 
0
g
 
 
0
g
davon gesättigte Fettsäuren
 
0
g
 
 
0
g
Kohlenhydrate
 
97.1
g
 
 
21.4
g
davon Zucker
 
72.9
g
 
 
16.0
g
Ballaststoffe
 
0.1
g
 
Eiweiß, Protein
 
0.3
g
 
 
0.1
g
Salz
 
0.03
g
 
 
0.01
g
 
 
Additional Product Information
Sachbezeichnung
Instantgetränk mit Beerensaftpulver, aromatisiert
Nettofüllmenge Beschreibung
50 x 22 g = 1100 g
Aufbewahrungshinweis
Vor Wärme geschützt und trocken aufbewahren.
Zubereitungsanweisung
Zubereitung: Beutelinhalt in 200 ml heisses Wasser geben, umrühren und geniessen.
Distributor
Wander AG, Fabrikstrasse 10, 3176 Neuenegg, CH
Hersteller
Wander AG, Fabrikstrasse 10, 3176 Neuenegg, CH