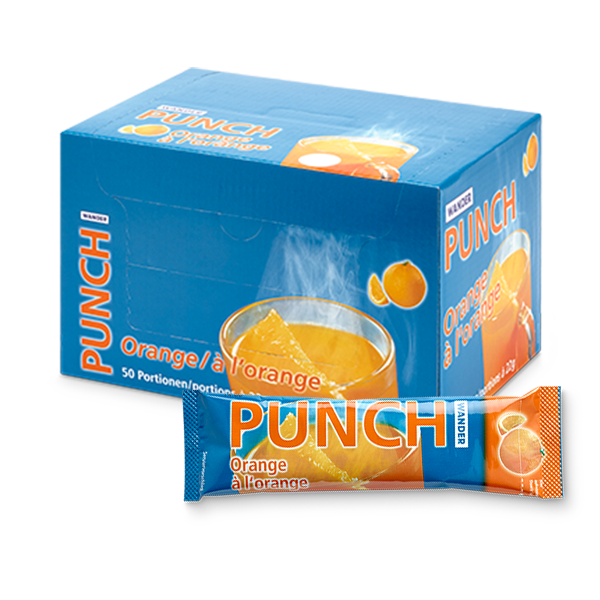 Orange punch
Punch with the zesty taste of orange – made by Wander.
The fruity taste of Wander orange punch brightens up cold winter days with a touch of the exotic. Perfect for those who dream of spending winter in warmer climes. 
Instant beverage with orange juice (18%), rich in vitamin C.
Ingredients
Ingredients: Sugar, glucose syrup, orange juice powder 4%, flavours, acidulant citric acid E330, tea extract 0.5%, vitamin C, instant caramel.
Allergens
Contains: Does not contain any allergens with a mandatory declaration

Nutritional Values
100 g
1 Portion 1)
Amount
Unit
%NRV / VNR *
Amount
Unit
Energy
398
Kilocalorie
88
Kilocalorie
Energy
1692
Kilojoule
372
Kilojoule
Fat
0.1
Gram
0
Gram
of which saturated fatty acids
0.1
Gram
0
Gram
Carbohydrate
99
Gram
21.8
Gram
of which sugars
83.6
Gram
18.4
Gram
Protein
0.2
Gram
0
Gram
Salt
0
Gram
0
Gram
Vitamin C
364
Milligram
455
80
Milligram
* % of daily reference intake (NRV)
1) 22 g Punch orange + 2 dl water
Additional Product Information
Regulated product name
Instant beverage with orange juice (18%), rich in Vitamin C
Net content statement
50 x 22g = 1100g
Number of servings per package
50
Preparation instructions
Dissolve 1 sachet in 2 dl hot water, stir well and enjoy.
Country of origin
Switzerland
Distributor name and address
Wander AG, Fabrikstrasse 10, 3176 Neuenegg, CH
Manufacturer name and address
Wander AG, Fabrikstrasse 10, 3176 Neuenegg, CH