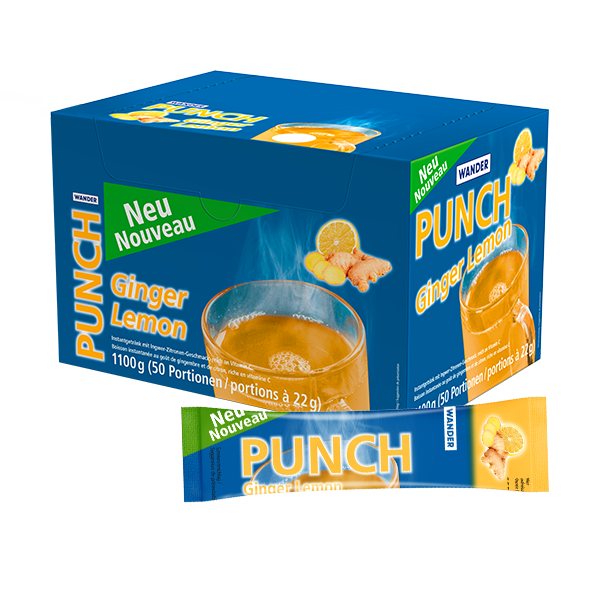 Punch Lemon & Ginger
The Ginger & Lemon Punch from Wander is the ideal companion for a (ski) day in the mountains - or just because it feels good. The power package of ginger and lemon warms from within and refreshes the mind.
Ingredients
Ingredients: Sugar, glucose syrup, 3.7% natural ginger flavours, acidifier citric acid, vitamin C, 0.5% natural lemon flavour with other natural flavours, 0.5% tea extract.
Allergens
Contains: Does not contain any allergens with a mandatory declaration

Nutritional Values
100 g
1 Portion 1)
Amount
Unit
%NRV / VNR *
Amount
Unit
%NRV / VNR *
Energy
385
Kilocalorie
85
Kilocalorie
Energy
1637
Kilojoule
360
Kilojoule
Fat
0
Gram
0
Gram
of which saturated fatty acids
0
Gram
0
Gram
Carbohydrate
93.8
Gram
20.6
Gram
of which sugars
70.9
Gram
15.6
Gram
Protein
0.2
Gram
0
Gram
Salt
0
Gram
0
Gram
Vitamin C
638
Milligram
798
140
Milligram
175
* % of daily reference intake (NRV)
1) 22 g Powder + 2 dl water
Additional Product Information
Regulated product name
Instant beverage with ginger and lemon flavour, rich in Vitamin C
Net content statement
50 x 22 g
Number of servings per package
50
Consumer storage instructions
Store in a dry and cool place.
Preparation instructions
Add 1 sachet (22g) to 200 ml hot water, stir and enjoy.
Country of origin
Switzerland
Distributor name and address
Wander AG, Fabrikstrasse 10, 3176 Neuenegg, CH
Manufacturer name and address
Wander AG, Fabrikstrasse 10, 3176 Neuenegg, CH